We are officially nearing the half-way point of February, and with that are coming the first signs of Spring (in Spain anyway!); the almond blossom is blooming, days are getting longer and my legs are itching to come out! Okay, that last one might be a bit of an exaggeration and probably isn't a sign that Spring is on it's way for most, but I am 100% ready to wear amazing outfits without shivering to the bone and being petrified that I am going to get pneumonia. Admittedly, I am probably going to have to do a rather a lot of sunbathing in the comfort of my own home to get a bit of a tan before getting my legs out, as my paleness might just blind people. So, if winter could please hurry up and leave, I'd be really greatful. I am officially counting down the days before I can put my winter coat away and leave the house without wearing 5 layers. Yes, I live in the Costa del Sol so probably don't have as much right to complain about the cold as many other people, but I am British and complaining is what we do best.
I think it's fair to say that I have spent most of the past few Winter months spending endless hours on fashion blogs, websites and online clothes stores, searching for some key pieces to add to my wardrobe in time for warmer weather. Surprise, surprise, a few of my favourite pieces were from
Topshop!
Well, I saw a few but it's basically each and everyone of their playsuits, jumpsuits and everyday pyjama-style wear. The only things stopping me from buying something are a.) I'd never be able to narrow it down to one choice and b.) if I bought one, I know I'd never be able to stop myself from buying more. Willpower at it's finest.
Here are some of my favourite pieces from their latest collection:
Floral Tier Playsuit: First of all, it has pockets! I never thought I'd see the day where I got so over-excited about pockets. This is quite possibly the first playsuit I've seen that has them so that in itself makes this a must. I also love how it has more of a two-piece (another trend I'm loving at the minute! feel and look, with it being clinched in at the waist and the top half hanging over slightly.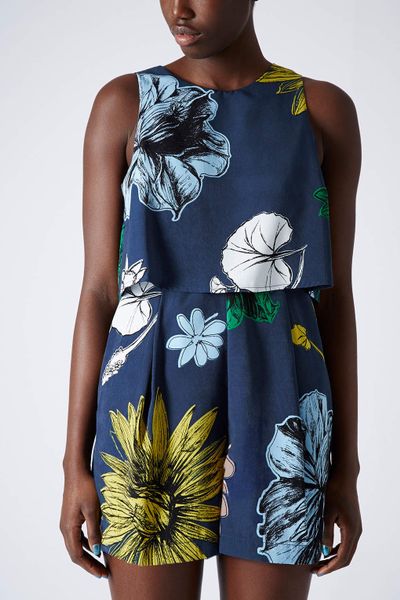 I would pair this particular playsuit with bright red lipstick, lashing of mascara, some black Chelsea boots, a leather jacket and a black fedora.
Luxe Boilersuit: A boilersuit still counts as a jumpsuit, right? It ends in suit so I am saying yes. Ireally like the fitting of this boilersuit and love the way it offers you the chance to add a belt, should you feel the need to jazz up the outfit a bit!
I'd pair this outfit with a bright pink lip, simple cat-eye eyeliner and either white or nude high court shoes with a matching clutch and a simple gold necklace.
Sketch Star Boilersuit by Unique: Probably the most "Out there" of my choices. It's not something I'd usually pick, yet could definitely see myself wearing this should I have the right sort of event to wear it to. I think this combines both jumpsuit (well, boilersuit) and pyjama wear, so what better item than to add to this post?!
I'd combine this with some dark tan gladiator sandals with a wedged heel, a dark orange lip, a tan leather briefcase, some statement earrings and metallic nails.
Lilah Jumpsuit by Motel: I love both the prints and the colours mixed in this playsuit and could easily see it being transformed from day to night wear. I think this might just be the winner of the items featured on my blog, but should anyone rich (or Topshop) be reading this, then I am more than happy to have them all, ahem.
For day time wear, I'd pair this with a light denim jacket (preferably one with a sheepskin collar), a high pony tail and some cream coloured "geek shoes". For more of an evening wear look, I'd wear it with a coral lipstick, some black block heel sandals and either a leather jacket or a slouchy black blazer.
Vienna Jumpsuit by Motel: Having mainly featured jumpsuits in this post, I figured that my final feature should be another playsuit, so last but not least is this Vienna jumpsuit! It's clearly popular considering the only size left is XS. I love the print and I love the colours, and despite it being heavily featuring white, I think this would actually look really good on pale skinned people! Admittedly, this could just be my brain's way of trying to convince myself that I would suit it, but that is the opinion I am sticking too!
I'd wear this with an orange shade of lipstick with a white pair of two part ankle strap open toe shoes, a simple gold necklace and orange nail varnish.
So, that is some of my favourite playsuits and jumpsuits in time for Spring!
What items of clothing are you lusting after for Spring?
Let me know in the comments below!
*All images were taken from the topshop website*