I know this is pretty late, but I've recently had some trouble with publishing on my blog! I'll schedule things which a specific date and time and then they won't go up. This was due to go up on the 16th of March but obviously didn't go up, and then after being completely overwhelmed with dance, I forgot to actually publish it. Well done, me.

Anyway, Now that Fashion Week is officially over, I can now stop crying over how perfect everything and everyone looked. Well, almost anyway. Of course, I'm still frantically browsing Vogue and other fashion websites in case I missed anything, but I think I'm pretty caught up with everything.
One person I couldn't help but ogle over is Alexa Chung. I've been a huge fan of both Alexa herself and her style now, but she truly hit a new high at Fashion Week. Attending shows in London, New York, Milan and Paris, she certainly had her work cut out for her. Admittedly there are worse things to do than travelling and picking out outfits to wear to Fashion Week (What am I talking about? That sounds like a dream!) but it must be difficult with the World watching, yet she managed to pull it off effortlessly.
Here are some of my favourite looks of her's from Fashion Week:
- Valentino Butterfly Cape Dress worn in Milan: Not only is this one of my favourite looks of Alexa's, it's also one of my favourite looks from Fashion Week. She wore this dress whilst attending the International Woolmark Prize, for which she was a judge. She teamed it with what is now her trademark cateye eyeliner, some brown suede shoes and a black tote.
- Metallic Coat worn at the Marc by Marc Jacobs show in New York: This obviously isn't an obvious Fashion Week outfit. A pair of cropped, skinny jeans, pointed black boots, a black jumper and sunglasses all seem a bit... low key for such a big event. Don't get me wrong, I adore this outfit but still, it seems a bit low-key. That is until they're paired with a two-tone Marc Jacobs coat, as shown by Alexa, who let her coat do the talking. I have all of the previous items listed in my wardrobe, so if I could just find someone to lend me that coat... The fashion icon, who claims that she was inspired to wear the coat by a '60's dragonfly', said it was simply too cold to wear a dress.
- Lemon Ensemble at Christian Siriano's After-Party in New York: Alexa paired this outfit with her kitten-print Longchamp bag (pictured in the background) and white Mary-Jane's. Love the simple, pastel yellow colour of both the jumper and the flowers on her skirt, which go wonderfully with the silver, metallic print of her skirt. Both clearly colours of the moment as American DJ and model, Harely Viera-Newton turned up in the same ones!
- Marc Jacobs Spring 2014 Palm Printed Dress in New York: Alexa pulls of this look brilliantly. With many people saying to only stick to one or two trends per outfit, Alexa proves that that is hardly case as she nails many a trend with a statement print, monochrome colours, orange lipstick and t-bar heels.
- Miu Miu high neck floral dress at Miu Miu "Sparkle & Light" Screening: I think it's obvious that this look just shouldn't work. When you picture a floral, feminine dress paired with a pale pink snakeskin print bag and pointed, black boots, it sounds like a bunch of items thrown together from a Charity shop so just how does Alexa make it look so damn good?! For that reason alone, it's one of my favourite of Alexa's looks at Fashion Week.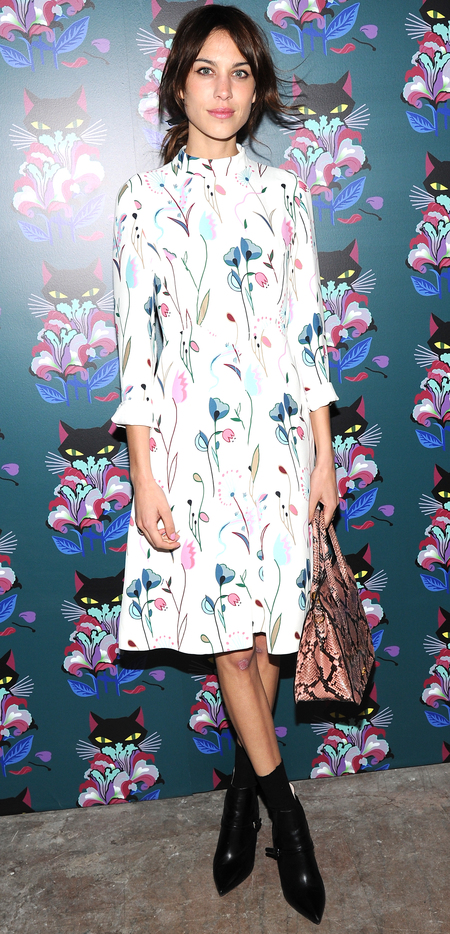 - Stella McCartney suit and Balenciaga blouse at the Calvin Klein show in New York: If I had the money, I wouldn't be sat here writing this post, I'd be online shopping and buying every single item that Alexa is wearing here, bean and Louis Vuitton bag included. Love the trainers and suit look too!
Who was your stand out star of Fashion Week? Let me know in the comments below!
❤❤
all pictures are from http://alexastyle.tumblr.com/ or Alexa's instagram