With the Oscars bringing a close to the Award Season, and with me finally being up to date with the Oscars, I guess now is a perfect time to talk about some of my personal highlights and favourite fashion moments of the Oscars!
- Jennifer Lawrence falling over for the second yet in a row. I can't decide if she is incredibly clumsy or has bad luck. I'm going to go with clumsy. Not only did she try and save herself my grabbing onto her best friend's Dior gown, but her boyfriend, Nicholas Holt, tried to save her by grabbing her boob. Amazing. And they say romance is dead.
- Photobombing was all the range at the Oscars. Two of my personal favourites including everyone's favourite man of the moment, Benedict Cumberbatch, stealing U2's big moment and Jared Leto celebrating his Oscar win at the Vanity Fair afterparty by celebrating behind a complete oblivious Anne Hathaway.
- Pharrell winning over some of the biggest names in film with a live performance of his Oscar nominated hit "Happy". While some celebrities looked completely bewildered, he got Lupita Nyong'o to dance with him and Meryl Streep to shimmy. I don't think many people could have done that.
- PIZZA. Imagine getting a call from the organisers of the Oscars and being asked to come and deliver pizza live on air at the actual Oscars. While this was a highlight in itself, watching the first few rows of celebrities chowing on it for the next few minutes was priceless. How they managed to eat it with dropping it down their designer dressers, I will never know.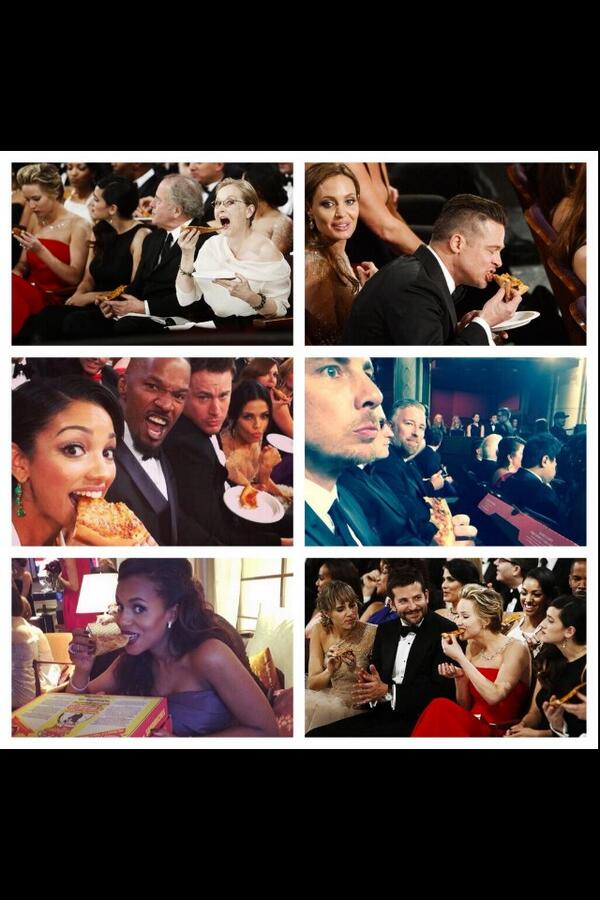 - No Oscars post is complete without a mention of that now infamous Selfie. The photo, now the most retweeted and favourited tweet in the history of twitter, managed to break the internet. Well, maybe not quite the internet, but at least twitter and tumblr. In less than an hour it had received over a million retweets. What did annoy me however, was that none of the celebrities seemed to look bad. They all looked amazing. I hate them all. Let's not forget to mention the amount of memes and celebrities photoshopping their faces into this. Of course, there was a none celebrity in this photo who, since the Oscars, has become on of the most talked about people at the Oscars; Lupita Nyong'o's brother, who is a Freshman in college. He is my spirit animal.
Fashion:
- Amy Adams: Looked stunning in a fitted Gucci dress, with a simple updo and minimum jewellery. Love the colour of the dress with her skin tone!


Angelina Jolie: Who can forget the infamous dress that Angelina wore to last year's Oscars?! For those of you that don't remember; thigh slit. For this year, she changed her look completely, covering up in a beautiful Elie Saab dress. Elie Saab happens to be one of my favourite designers and can do no wrong in my eyes, so anyone in anyone of his dresses is always going to make it on to my best dressed list.
Anne Hathaway: Anne looked amazing in a black Gucci halterneck dress with metallic detail. I love her hair and make-up and can't imagine this dress being worn any other way!
Khloé Kardashian: I know this is technically from Elton John's Oscar after-party, but Khloé looked too stunning to not feature her in this post. She's been killing it in the style stakes recently, and this is a perfect example of that. Having lost over 30 pounds in the past year, her confidence is at an all time high and that shows in this dress. LOVE it, and I'm loving her new lightened hair too.
Kate Hudson:
WOW.
Girl crush alert. She looked amazing in this silk Versace dress, which featured a draped back.
Sandra Bullock: Oscar-nominated actress Sandra was clearly looking to impress with her dress, and she did exactly that. Love the detailing, color and fit of the dress. In fact, I love everything about it. I do wish she'd gone for a different bracelet and maybe a different hairstyle, though.
Pharrell Williams and Helen Lasichanh:
Considering Pharrell constantly features on best dressed lists, he was hardly going to disappoint at the Oscars. I don't think anyone could have predicted him wearing shorts/a short tux, but my God, he did not disappoint. This is the second event to which Pharrell and wife, Helen, have worn matching tuxes and I truly hope they continue to do so. Shout-out to Helen for sticking with her heels too and leading the pack for us tall girls.
Lupita Nyong'o: With it being Lupita's first Oscars, and with her being nominated best supporting actress, all eyes were going to be on her. Would she win, how would she handle the pressure, what would she say and most importantly, or at least in my eyes, what would she wear? The answer to that last question: a custom-madre Prada dress. She looked amazing. It is honestly one of the most breath-taking dresses I have ever seen and I think it's going to be a long time before anyone tops that.
Did any of you watch the Oscars? If so, be sure to let me know some of your highlights and favourite outfits in the comments below!
❤❤