The
Met Gala
is an annual fundraising gala
for the benefit of the Metropolitan Museum of Art's Costume Institute.
With individual tickets costing a whopping
$25,000, it is easily one of the biggest fundraising nights of the year.
The event is overseen by Vogue editor in chief, Anna Wintour, who
oversees both the benefit committee and the guest list. This year, the event was co-chaired by none other than Sarah Jessica Parker and Bradley Cooper, among others. Each year, the committee of said event chooses a theme to celebrate the life of a fashion designer or of certain cultures. This year's theme was Charles James, who Vogue describe as
being the
"master of color comparatives, of the cut and fold of exceptional clothes", Christian Dior claiming his designs were poetry and Cristobal Balenciaga describing him as the world's best and only dressmaker, so it was only right that he was to be honoured at the biggest night in the fashion calender.
Though not many female guests seemed to stick to the theme, I still thought I would do a 'Best Dressed of the Night look' as there is no doubt that there was some truly breathtaking gowns and outfits. I have also featured one or two of my best dressed men of the night. Though there was some men who ignored the dress code entirely (white tie and decorations), there were others who managed to bring together a look that Charles James himself would be proud of, despite many of them reportedly ringing up Tom Ford to ask what white tie and decorations actually actually meant.
Selena Gomez, in Diane Von Furstenburg: Selena was one of the many stars of the night dressed by Furstenburg, joined by the likes of Jessica Alba and Jessica Joffe. Together, they walked the red carpet looking absolutely stunning but there is no doubt that Selena was by best dressed of the group - matching her lipstick to the colour of her dress, adding dazzling jewels and an elegant updo. The dress, though not entirely sticking the the Charles James inspired theme, hugged her figure perfectly.
Cara Delevingne in Stella McCartney: Another attendee who walked the red carpet with a group of celebrity pals and designer of their outfit was Cara Delevingne, who attended the event with Stella McCartney, Rihanna, Reese Witherspoon and Kate Bosworth. While the rest of the girls, like Selena, went for figure hugging, full-length dresses, Cara went for a different look entirely, attending in trousers and a crop top. Though it was a risk, I think it was a risk that definitely paid off.
Emma Stone, in Thakoon: Emma bought a bright pop of colour to the event, attending in a two tone pink outfit by Thakoon. Despite her joining Cara in wearing a crop top, Emma went for a different look entirely. Though some thought her look was not formal enough, I thought she looked gorgeous. Shout-out to her make-up artist and hair stylist for going with this season's hottest looks, too.
Blake Lively, in Gucci: Can we all just take a moment to sit down and talk about Blake Lively? I doubt there is a single woman that does not want to be her, or at least have her body, face and ridiculously shiny, blonde hair. Oh, and let's not forget the fact that she is also married to Ryan Reynolds, who was also at the event looking ever so handsome. I hate them both. No, but in all seriousness, let's forget about Blake and Ryan for a minute and talk about her dress. The train, the figure huggingness of it, the colour, the detail... I love it all. I want it. Special shoutout to the woman in the background adjusting the train. I want someone to follow me around all day doing that too. Just kidding (I think).
Sarah Jessica Parker, in Oscar de la Renta: It seemed only right to feature Sarah Jessica in my best dressed list, with her being co-chairwoman and all. The actress and all round fashion star, best known for bringing Carrie Bradshaw to life, wore the most amazing Oscar de la Renta gown, which fitted like a glove. Sorry, couldn't resist the pun. Let's try that again; It fitted the Charles James inspired theme to absolute perfection. I'd really like to know how she didn't fall up the stairs while wearing this, but I guess that's the look Charles stepped out to create and what Sarah Jessica was hoping to achieve with her look. Some of Charles' creations weighed a whopping 18 kilograms yet, with the way he styled his dresses, he still managed to achieve the effortlessness of a ballerina in his designs.
Liu Wen, in Zac Posen: Liu was another star who managed to capture the creations of Charles James to perfection. The colour of the dress matched her skin tone perfectly and her hair and make-up were just right. She looked like an actual princess and I can only dream that one day I will get to wear a dress like that.
Arizona Muse in Ralph & Russo Couture:
Again, another star who managed to achieve the perfect look for the Met Gala. The only changes I would have made are a slightly chunkier necklace and also maybe a different hair do, or at least some long earrings, though I fully understand that she wanted all eyes on her dress.
Alex Welch, in Vera Wang:
I plan on doing a look on some of the best dressed couples of the night in the next few days but, as I wasn't blown away by
Amar'e Stoudemire's suit (though he did add a decoration!), I decided to feature Alex on her own. Unfortunately, there were no photos of her on her own, but this one shows off her dress to perfection. The colour of this Vera Wang creation is stunning and Alexa has paired it beautifully with her over the top rings and earrings.
Naomi Watts, in Givenchy: Anyone that knows me will know what a huge fan I am of both Givenchy and creative director, Riccardo Tisci, meaning I was more than likely to feature at least one outfit put together by the man himself in this post. Admittedly, there were many outfits that I wanted to feature as Riccardo styled many of the guests but I decided to stick to just one. Step forward, Naomi Watts. Naomi wore a semi-transparent, ombré monochrome dress, paired with matching earrings and a sleek updo. She looked amazing!
Jim Parsons, Benedict Cumberbath and Kanye West ( in Lanvin): Before I write about these three guests, I'd like to say that they are not my only best dressed men of the night. Others will be featured in a post featuring my best dressed couples, others didn't stick to the dress code at all (I'm looking at you, David Beckham) and then there were others who got it absolutely spot on, but Kanye, Benedict and Jim were just my favourite three of the night. Fun fact, Benedict and Kanye were also Anna Wintour's favourites. Kanye and Jim were both missing a decoration and Kanye, being Kanye, had it spot on up until he decided to miss out a white tie at a white tie ball. Benedict had it just right, though I would hae liked to have seen a bit more shaping to his suit, especially around the shoulders.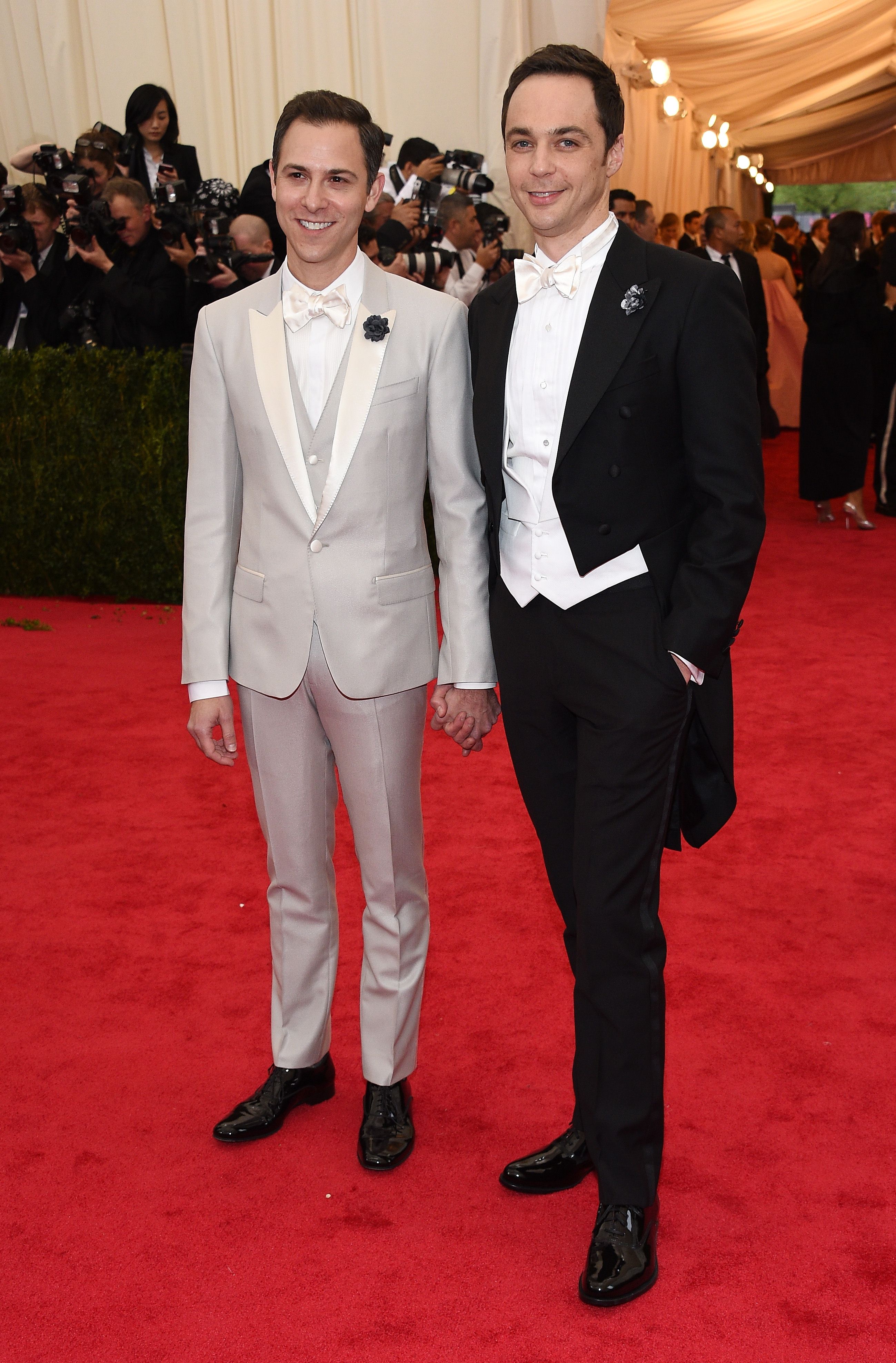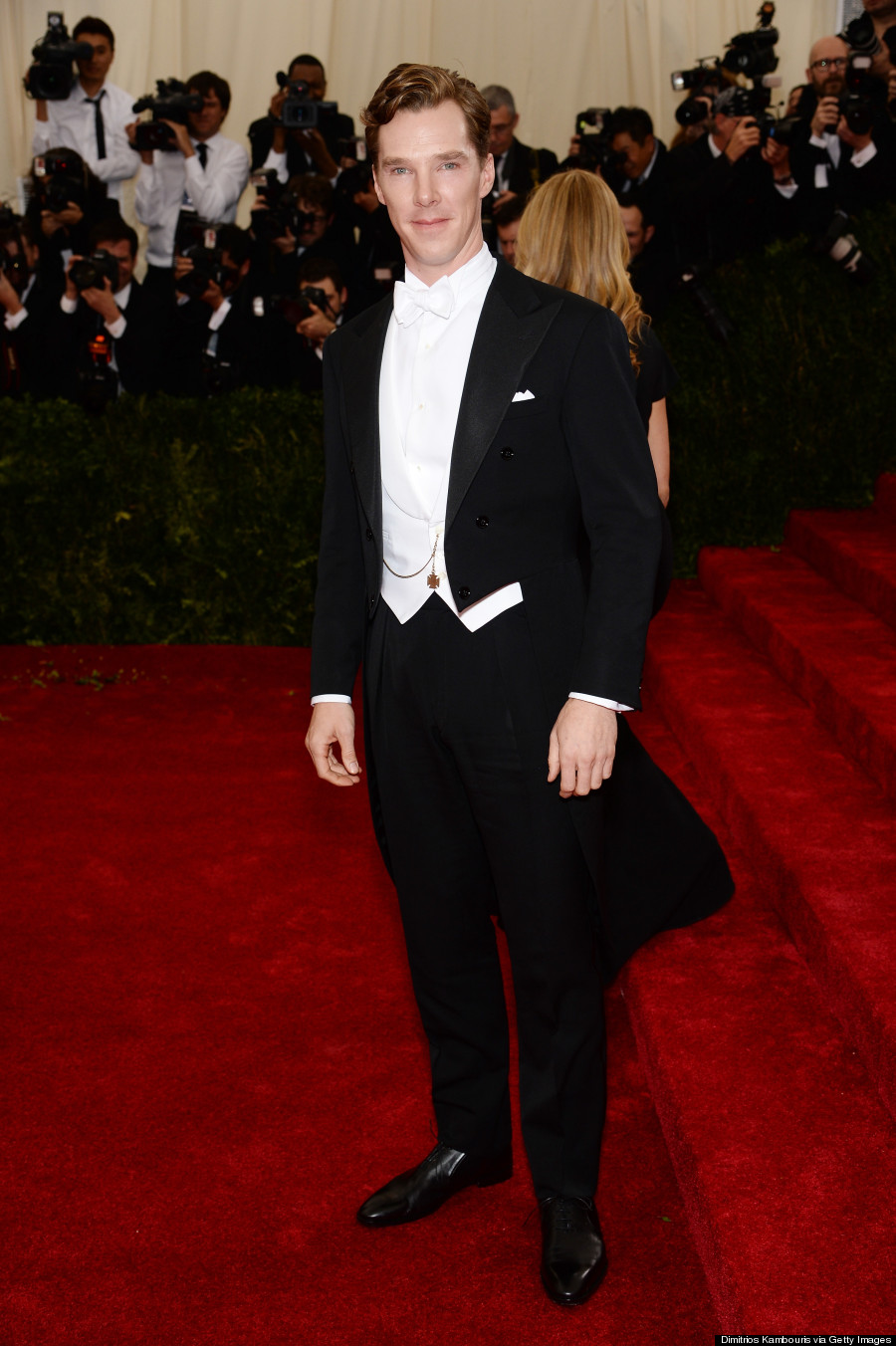 And that's it then! The Met Ball obviously featured so many amazing outfits, so many that I couldn't feature them all in one post and was bound to miss out an outfit that I absolutely in love with. Because of this, I plan on maybe doing a post on the worst dressed stars of the night and maybe even on little details of the night, if you don't feel this is too much!
Who were your best dressed stars of the night? Let me know in the comments below!